Code Geass Ecchi Scenes
Genre: Anime Fanservice, Boobs, Hot Butts, Sexy Cleavage, Nudity
Size: 278MB MP4 18min

Description: Code Geass is one of the popular Japanese anime series. Former prince Lelouch vi Britannia obtains a power known as Geass which grants different powers based on desired. He gained absolute obedience and decides to use it to obliterate the Holy Britannian Empire.
A compilation video of ecchi moments from this anime series.
Download Video (720p)
MP4 (278MB) – MP4 (278MB)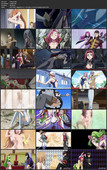 Characters: Lelouch, Kallen, C.C, Milly, Shirley, Kaguya